小村神社・日高村
---
Omura Shrine, Hidaka Mura
The long, tree-lined approach is a joy
神社までの並木参道は心躍る
The shrine itself is beautifully constructed
美しい神社の構築
But it is the tree that towers behind it that impressed me most
しかし、私にとって何より印象的なのは裏にそびえ立つ木
This ancient tree, contains a message of hope
"all trees do" you may say...
この古木は希望のメッセージを持っている
「どの木にもある」と皆思うかもしれない
but this tree in particular proclaims the message that "change is possible"
しかし、この木は「変更は可能だ!」と宣言している
This tree begins as one tree and turns into another.
The leaves it produces in the lower half and the upper half
are of different varieties of sugi (Japanese Cedar)
この木は途中から別の木になる、
下部と上部の枝葉は違っている
異なる種類の杉の木
The shrine is also home to a "tachi" sword,
"Kondōsō kantō tachi goshirae": a "shintai".
A shintai is a physical object
which the spirit of a god expresses itself through.
この神社は、国宝の金銅荘環頭大刀をご神体としている。
スポンサーサイト
Though still bright, as the sky grew darker
and evening approached
the street lights came on.
まだ明るかったが、
夕方が近づくと空は徐々に暗くなり
街灯がつき始めた。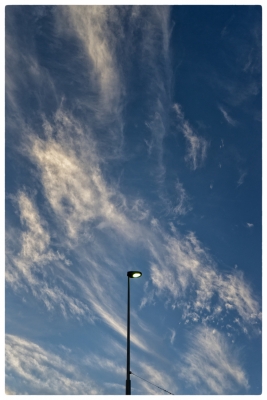 The day had been cold,
the night would be much more so.
I knew it was time to go.
今日は寒かった、
まして、今夜はさらにそうなるだろう
もう行く時間だと分かった。
Then, a thousand voices filled the air
and turning around I saw...
そのとき、声の一群が飛び交った。
振り返ってみると
...a sky full of birds.
They circled around
and landed on the electric lines
to write a song
in birdsong notation
(which humans rarely take the time to read)
空が鳥でいっぱいだった。
皆が回って
電線の上に着地
音符を作るように
鳥が並んでいた
(人間は鳥の音符を読む時間を作ろうともしないのに)
The title of the song was:
"The day has been cold, the night will be much more so. It is time to go."
曲名は:
「今日は寒かった。まして、今夜はさらにそうなる。もう行く時間。」
~~~~~~~~~~
ゲルニカ爆撃80年前
---
Guernica was bombed 80 years ago
By Bundesarchiv, Bild 183-H25224 /

Unknown

/ CC-BY-SA 3.0, CC BY-SA 3.0 de, Link
The town of Guernica was bombed 80 years ago with the aim of
demoralizing the resistance in Spain and also as a test case,
to use new technology and new methods.
Looking back at history we can see it was warning to the world of the
"Total war" that was to come.
A few days ago the world witnessed the detonation in war of the largest
non-nuclear explosive device so far, the MOAB. It too was an experiment,
to test its effectiveness and it was a tool aimed to demoralize the enemy
in Afghanistan. It too is a warning to the world of what may be to come.
Days before that, the US missile attack on Syria, carried out during the
dessert course of the meal as Mr. Trump entertained President Xi Jinping,
was calculated to send a message to the Chinese and North Korean governments
(and any other government) "terrible fire will rain down from the heavens"
on all those who oppose the will of Trump.
We should remember Guernica and what it prefigured.
We should see the attacks on Syria and Afghanistan as what they may become
if we are not vigilant: the precursors to a widespread conflict.
By PICASSO, la exposición del Reina-Prado.
Guernica is in the collection of Museo Reina Sofia, Madrid.
Source page: http://www.picassotradicionyvanguardia.com/08R.php (archive.org),
Fair use, https://en.wikipedia.org/w/index.php?curid=1683114
ジョン・バージャー 1926年11月5日 - 2017年1月2日
---
John Berger 1926~2017
見るということは
What does it mean, to look?
What is to see?
I think I was eight when I saw "Ways of seeing" on a black and white portable TV.
I was mesmerized...
one of the first adults who said anything that made sense to me!
If you don't know John Berger's work
well...
you don't know what you're missing.
"Art, politics and motorcycles"
We are creatures that can truly perceive
the world around us.
Are you
fully
aware of that?
If so, good
and know that there are others like you.
Let us rejoice in the time we have here.
Bravo!
and thanks John!
previous / 過去の投稿